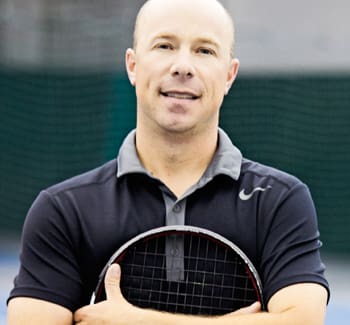 Eric Nokes
Eric was formerly the Director of Tennis at Sunriver Resort. He brings dynamic tennis program and instruction to beginner, intermediate, and competitive adults and juniors. Eric became the Director of Tennis at Sunriver Resort in 2004, building the program to a level which rated Sunriver Resort as a "Top 50 Tennis Resorts" in 2011, by Tennis magazine.
Eric's playing accolades began at an early age. In high school Eric was Wyoming's State Singles Champion, going undefeated in his senior season. He was awarded an athletic scholarship to play Division II collegiate tennis at Mesa State College. While attending Mesa State, Eric was honored as an All-Conference player and helped lead his team to the Division II National Tennis Championship tournament, for the first time in Mesa's history!
Always having a love for tennis and enjoying working with and meeting people, Eric went on to begin teaching tennis full time at the age of 21. In his 18 years of coaching, Eric has stayed true to his belief that all players can improve. He always brings a fun and competitive atmosphere to the courts, helping players of all levels work on their games.